Welcome to Golden Sea Graphics Web-Superstore!
If you are searching for custom printed or embroidered caps, T-shirts, apparel & promotional products you've come to the right place! We have been screen printing caps & apparel for over 30 years and our highly trained embroidery department was established over 18 years ago.
We have online catalogs (cap, apparel & ad specialty) of over 500,000 items just a convenient click away.
Our in-house screenprinting & embroidery gives us a great competitive edge on apparel pricing.
We specialize in finding the right item for your business or event and we will do our best to provide you with the best quality at the lowest price.


ALL PRICES ARE SUBJECT TO CHANGE WITHOUT NOTICE.


When you find what you are looking for, or if you would like some help, please call us:

TOLL FREE at 1-800-535-5030.

We are live from 8-5pm, CST.

Our E-mail address is: goldsea@twinvalley.net.
We have a Toll Free 24 hour fax available: 866-429-5794
Featured Item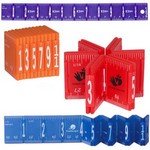 Fold 'Em Up Ruler
Unique folding ruler with a hole for hanging up. Easily folds up into a compact 1 1/2" square. Custom colors available upon request. Imprinting on all squares available. Great desk accessory and trade...
$1.32
What Our Customers Are Saying

I've ordered many products over the years from Golden Sea Graphics and have never once been disappointed. The quality of the merchandise, the timeliness of its arrival and the cost are all very good....
Shirley Hailstock
Romance Writers of New Jersey